PE & Sports
Our Sports Vision
Through PE and School Sport, the children at Viewley Hill Academy are able to develop the important qualities of discipline, resilience, communication and teamwork, which in turn lead to improved concentration, attitude and academic achievement. We aim to give the children experiences that help to develop a lifelong love of exercise.
Please click here to find out more about our school's participation in sport and PE on the School Games Website.
Sport Skills Lockdown Style!
Below, there is an activity sheet for each year group. These consist of challenges that can be done week after week independently or with others – at home and in school. The aim is to challenge ourselves by practising, developing and improving to be the best that we can be – even in Lockdown!
Skip2BFit in Lockdown
Skipping to keep healthy, positive and fit during Lockdown.
At Viewley Hill, we know how important it is to keep fit and healthy, especially right now. Exercise also helps our minds to stay healthy and can have a big impact on feeling positive!
In January, we purchased a skipping rope for every child from Reception to Year 6 as we know how much children enjoyed their Personal Challenge of skipping last year. To go with the ropes, Dave from Skip2BFit sends us two work out videos a week that we can all do at home or in school.
Stay happy, keep healthy and always smile!
Let's Get Moving in Lockdown!
While in Lockdown, we want to keep our Viewley family fit and healthy. We designed this calendar to keep them active and set them challenges (both personal and ones to do with others). Mr Hutchinson's challenges are posted weekly on YouTube.
Sporting Superstars – Autumn 2020
Each half term, we are awarding one child from every class the honour of being a Sporting Superstar. These children are chosen by Mr Hutchinson for their outstanding sporting values.
RJ: Spencer – Listening and trying his hardest in Yoga.
RS: Alfie G – Fantastic listening skills and constantly pushing himself.
Y1SH: Louie – Always listening and wanting to learn new skills. 
Y1-2G: Ava – Mastering skills above her age and always gives 100%.
Y2S: Scarlett – Always listening carefully to instructions and always keen to learn new skills.
Y3L: Olly – Keenness to try anything and everything! Always the first to join in at lunch times too.
Y3-4G: Ebony – Excellent sportsmanship whether she wins or loses. 
Y4M: Lacey – Her sporting ability is out of this world! She has so much potential. 
Y5-5B: Alban – Always turns up to PE lessons with a fantastic attitude.
Y5-5C: Alfie – Gives nothing less than his best in every lesson.
Y5-6S: Melissa – Excellent sporting ability and often takes the role as team captain as she is always fair and honest.
RJ: Frankey for always wanting to learn new things and amazing listening skills.
RS: Mercedes for showing excellent growth and confidence in Yoga sessions.
Y1SH: Jacob for amazing Mr Hutchinson with his ball skills this half term and making lots of progress.
Y1-2G: Harry for exceptional behaviour and attitude towards learning new skills.
Y2S: Mila for never giving up – her resilience and perseverance are a joy to witness! 
Y3L: Hannah for always joining in with everything, with enthusiasm, in lessons and on the yard.
Y3-4G: Austin for being excellent at every sport we do. His ability is outstanding!
Y4M: Alfie for always giving everything 100% and doing it with a huge smile on his face. 
Y5-6B: Kianna for excelling in gymnastics and showing some breathtakingly brilliant skills. 
Y5-6C: David for his enthusiasm, ability and fantastic routines in gymnastics this half term. 
Y5-6S: Roman for being a super keen learner in PE lessons. He does not shy away from anything!
Sports for Champions Fundraising
Throughout January and February, our children fund raised for the charity Sports for Champions. We raised an incredible amount and we are so grateful to our supportive families.
On February 26th, Matt Lee, who is a decathlete, came into school to put the children through a fitness circuit to get their blood pumping and hearts racing. There were 5 stations and these varied depending on the year group. There was: sit ups, press ups, spotty dogs, star jumps, burpees, squats and more.
Every child from Reception to Year 6 took part and it was amazing to see how determined and resilient our children were.
After the circuit, Matt did an assembly for the whole school about himself and his career. It was amazing to hear how many injuries he has overcome and how he has been supported through the Sports for Champions charity.
We are hoping this has inspired our children to continue to push themselves and be the best they can be!
Spring 1 Skipping Superstars!
Our skipping just keeps getting better and better! The children have taken this as their personal challenge and are working incredibly hard to succeed!
Year 2: Jamison & Faith
Year 3: Roman & Gracie
Year 4: Jude & Ava
Year 5: William & Millie
Year 6: Tilly & Brooklyn
Dodgeball
On Tuesday 28th January, our Y5/6 Dodgeball Club took on Sunnyside Academy in a friendly dodgeball tournament. The event was held at Viewley and it was a pleasure to host a wonderful competition.
It was a busy event as there was 12 games played in total! Viewley won 4 of these games and showed some excellent skills that they have been working on in club with Mr Hutchinson.
We were astonished at the level of skill Sunnyside had and it has given us the motivation to get better. We would like to thank Sunnyside for coming to us and wish them luck in the Nationals Competition in March.
This event brought home how wonderful our Viewley children are. Their outstanding attitudes and amazing sportsmanship really shone through; we could not be prouder of them!
Football Friday
On Friday 24th January, some Y5/6 Viewley boys took on Brambles Primary Academy in a friendly football game.
Although it was cold, the sun was shining and the boys were up for it. Harley, Layton, Alfie, Brooklyn, Kenji, Josh, David, Alban, Oliver and Harry  represented Viewley extremely well and played some fantastic football. Mr Hutchinson refereed the game and was impressed with the standard of football from both sides.
The end result was: Viewley Hill Academy 3 – 5 Brambles Primary Academy
Harry, David and Layton scored our goals and Harley and Alban both pulled off some great saves when playing in goal.
We are very proud of the sportsmanship and commitment our boys showed – you are a credit to the school!
A big thank you to Brambles and Mr Higgins for an enjoyable afternoon. We hope this is the beginning of many friendly competitions!
Autumn 2 Skipping Superstars!
After the success of our Autumn 1 stars, we were super excited to see who would smash their personal challenge this half term … we were not disappointed!
Year 2: George & Miya
Year 3: Archie & Maisey
Year 4: Archie J & Kianna
Year 5: Roman & Lilly-Belle
Year 6: Layton & Olivia
Joe Wicks – we love you!
Team McCabe and Team Shadforth have both be doing Joe Wicks' workouts in PE lessons (Y4) and in class (Y2). The children really enjoy these 5 minutes of exercise and it helps them focus in their learning. Miss McCabe and Miss Shadforth both took videos of their classes doing a work out and tweeted it … Joe Wicks liked it and retweeted us! We must be super awesome!
Autumn 1 Skipping Superstars!
We are super proud of the resilience, perseverance and improvements these children have shown towards their personal challenge of skipping:
Year 2: Penny & Zachary
Year 3: Lilly S & Keegan
Year 4: Spencer & Macie
Year 5: Max & Mayli
Year 6: Joseph & Lara
Cross Country Finals
On Wednesday 16th October, two of our Year 5 children attended the Middlesbrough Cross Country Finals. This is HUGE as not everyone gets to go – Maddison and Harry qualified for this event!
Harry came 41st and Maddison came 61st – well done!
They ran their best race and we are so proud of them for representing our school so well.
Box2BFit
During the last couple of years, we have had some fantastic sessions with Dave from Box2BFit. He has done sessions with the children, with staff and held one for parents. These sessions are accessible by everyone and you can't but join in – especially when the music starts.
Mr Hutchinson loves it and has been doing it in PE with the Year 5s and 6s. There is lots of huffing and puffing but that is because the children are working so hard! They come out the session red faced, out of breath but super happy.
Bronze is the Best!
On Wednesday 18th September, we sent a bus load of children to compete in the Middlesbrough Cross Country Event. All the children ran their socks off and we could not be prouder of the resilience they showed.
Harry Garton, from Year 5, came 10th in his race and has made it to the Tees Valley Finals! Well done Harry!
Maddison Wilson, one of our Year 5 girls, absolutely smashed it in her race! She came 3rd out of nearly 200 children. She received the bronze medal and has qualified for the Tees Valley finals in October too. We are super proud of you!
Y5/6 Boys Football
A massive well done to our nine Year 5 & 6 boys who went out to play in a football competition on Friday 13th September. They played a number of games throughout the day and showed superb skills. They won a few and drew a couple – how amazing is that?
We cannot wait to see what else you do this year boys!
Fabulous Football!
The week beginning the 24th June 2019 was a super busy week at Viewley – there was so much football going on!
On Wednesday, our Year 3-4 boys teams went to the Middlesbrough Championships at the Sports Village for a day of football, fun and winning! Our C Team came 3rd in their group and our B Team came second in theirs – well done boys! When the teams arrived back at school, the A Team had something very shiny around their necks – gold medals! They had won the Championship and even brought back a big trophy! This is a first for Viewley and we could not be prouder of them.
On Thursday, it was the Year 3-4 girls turn to have some footballing fun. They put their kits on and went to the Sports Village for a day full of matches and sunshine. The girls ran their socks even though the weather was hot and won a number of games throughout the day. After all of their hard work, our team came second – they each got a super, shiny, silver medal!
By the time Friday came around, the weather was extremely warm but this did not stop 10 of Key Stage 1 children enjoying the Middlesbrough Football Festival at the Sports Village. This was a non-competitive event and each child was given a gold medal at the end of the day for just being amazing!
All of our footballing stars were fantastic on and off the pitch: they shook hands with every team; they thanked the referees; they showed superb manners. We are extremely proud of every single one of them and they certainly upheld all of the Viewley Values!
#Winning
On Saturday 30th March, our very own Lilly-May played for the Middlesbrough Regional Girls Football team in a tournament.
After many matches and lots of fun, Lilly-May and her team won the entire tournament!
We are super proud of you Lilly and can't wait to watch you play for England in years to come.
Year 5/6 Netball Competition
On Wednesday 27th March, six of our Year 6 girls (Evie, Lilly, Grace, Rosie, Lucy and Megan) attended a Netball Competition at Outwood Academy.
First round results:
Captain Cook 0 – 4 Viewley
St Joseph's 0 – 3 Viewley
St Thomas Mores 1 – 4 Viewley
Beech Grove 9 – 1 Viewley
St Bernadette's 0 – 6 Viewley
We won our group and moved on to the next round where we played against all the winners of the other groups.
Winners round results:
Newham Bridge 1 – 0 Viewley
St Clare's 3 – 4 Viewley
Park End 11 – 0 Viewley
Sacred Heart 7 – 0 Viewley
Overall, Viewley came 4th out of 23 schools – we are so proud of you girls!
Young Tennis Leaders
On Thursday 28th February 2019, we sent three of our Year 5 Sports Leaders to Tennis World to complete a training course.
Alfie, Libby and Annie spent the afternoon being put through their paces and completing a variety of activities – they are now Young Tennis Leaders. They will be going to the upcoming Year 3 Racket and Ball Festival to support younger children with their tennis skills.
We are all very proud of you and this fantastic achievement!
District Football – Well done Lilly!
A few weeks ago, schools across Middlesbrough were sent an email asking for outstanding football talent to attend a District event. At Viewley, we have many amazing footballers so it was a hard decision to make but we managed to pick two Year 6 girls and one Year 6 boy.
All three children were excellent during their two sessions and we are incredibly proud of how they represented Viewley.
After two training events, our very own Lilly-May was picked to represent the district! We have always known she is super awesome so we are very pleased other people are having the pleasure of seeing her play too!
Cross Country
Let me set the scene: it had been raining for 10 hours solid and the wind was blowing at around 50mph. However, that did not deter some of our Year 3, 4, 5 and 6 children from running cross country.
On Friday 21st September, they headed out at 9am to UCA to run the course. In each race there were about 15o children competing and it was a very busy event. Our children represent Viewley well and behaviour was on top form.
A special to mention to Layton (Year 5) who came 12th in his race – well done!
Another special mention to Harvey (Year 6) who came 7th in his race. This means that he has qualified for the Tees Valley Finals for the second year in a row! We cannot tell you how proud we are of you Harvey – you are a super star!
Overall, Viewley came 17th out of 30 schools – we are bursting with pride!
Year 5 & 6 Girls Football
On Wednesday 19th September, it was the girls' turn to play the beautiful game. 8 of our Year 5 (Olivia, Tilly and Annie) and Year 6 (Evie, Lilly-May, Sophie, Kada and Grace) attended the football competition at the Sports Village.
It was a rainy, dull day but our girls showed excellent resilience.They played 9 matches in total and won 4 of them. However, they were knocked during the afternoon.
Well done girls; we are super proud of you!
Year 5 & 6 Boys Football
Second week back at school and our first sporting competition of the year took place. On Friday 14th September, 9 of our Year 5 (Alfie, Josh, Brooklyn, Harley and Layton) and Year 6 (Alfie, Caleb, Dom and Aaron) boys headed out to Middlesbrough Sports Village to compete in a football tournament.
It was a busy day and our boys played 9 matches in total – wow! During the morning, we won 2, lost 2 and drew 2 meaning that we progressed to the afternoon finals. However, it just wasn't meant to be as we lost our next 3 matches, which meant Viewley were knocked out of the tournament.
A massive well done to our footballing stars – you made us all very proud with your sportsmanship and enthusiasm!
Year 4 & 5 Orienteering 
On Wednesday 4th July, it was time to get out of the classroom and head to Stewart's Park for a run around! Thankfully, the weather was nice and conditions were perfect for a morning of Orienteering.
We took 40 children to the event and then they were put into pairs to complete the course. It was 20 children in a team so we were very fortunate because we had entered 2 teams. Each pair got a buzzer and a map and had to go to each point – ensuring they connected their finger buzzer with the post. At the end of the course, each pair was given a slip of paper with their timing on.
Later on that day, Miss Shadforth received an email from the organisers with all of the results … Viewley had come 4th out of 40 teams!
A massive well done to all of our Orienteering pairs: you were outstanding!
Sports Day – 25th June 2018
A massive thank you to parents, teaching staff, volunteers, students and anyone else who helped to make Sports Day happen!
It was a beautiful, hot, sunny day: not something we see often! Lovely for sunbathing but maybe not for sports. However, our children did not let the weather deter them or put them off – in fact, it spurred them on.
In the morning, our EYFS children showed us how it was done and we were so impressed by how grown up they all were. Behaviour was impeccable; determination was on point and supporting peers was high on the agenda.
After lunch, Key Stage 1 and 2 took to the field for their events. All children competed in every event and many stickers were given out. Smileys were also given out for outstanding sportsmanship and compassion. The most impressive part of Sports Day was the long run – many children do not like this event and we often have people refusing to do it or giving up. Not this year! Every child, in every class completed the long run and we are so incredibly proud.
Well done Team Viewley!
Cross Country Finals!
After the Middlesbrough Cross Country in April, two of our boys qualified to attend the Tees Valley Finals. Orpheus (Year 6), who came 6th in the event, and Harvey (Year 5), who came 11th in his event, went to Stewart's Park on 25th June to compete in the finals.
It was a lovely day for a stroll around the park but that was not what our boys were there for: they were there to compete against schools from Middesbrough, Stockton, Billingham and more. We are over the moon they represented Viewley and we couldn't ask for better advocates for our school.
To top their day off, both boys returned to school to take part in our very own Sports Day and they both ended it covered in medal stickers! We are so impressed and in awe of our boys' sporting abilities – we very proud of you!
Year 5 & 6 Athletics
What a week for sports! On Thursday 14th June, some of our Year 5s (Lucy, Katy, Grace, Summer, Evie, Sophie, Brooklyn, Dominic, Logan, Corey, Aaron, Alfie, Caleb and Harvey) and Year 6s (Lily, Grace, Lola, Angelina, Amy, Caitlyn, Orpheus, Reece, Billy, Luke and James) went to the Sports Village for an Athletics competition.
The children took part in a range of events:
Howler
Shot put
Sprint
Relay
Long jump
800m run
The children showed pure determination in their events and were buzzing when they returned to school. No one gave up, everyone gave their event their best shot and every child showed outstanding sportsmanship throughout the day.
A special mention to Harvey: he is a Year 5 but stepped in to take a Year 6 place when one of our boys couldn't attend. Harvey competed against Year 6s in all his events – we are so impressed!
When the results had been counted, it was announced that Viewley had come 26th. We could not be prouder of our athletes – well done!
Year 2 Quad Kids
After a fantastic day at the Year 3/4 event, it was time for the Year 2s to have a go on Wednesday 13th June.
Once again, we took 16 children (Kallum, Spencer, James, Leon, Rio, Luke, Isaac, Alfie, Alisha, Ella, Ava, Ellie, India, Lacey, Kiana and Kayla) and Miss Shadforth, who was lucky enough to go with the children, was blown away by their outstanding behaviour!
The children took part in the same events as the Year 3/4s and showed excellent resilience in the long run. Kayla was an absolute shining star in this event and came 1st. In the howler, Leon showed fantastic skills and threw his howler a very long way – he came 1st in this event.
At the end of the day, all the children from all of the schools were gathered together for the results. Before they were read out, we took part in a World Record floss with three of our girls, Ella Kayla and Kianna, showing everyone how it was done at the front. Viewley came 17th out of 29 schools – what an achievement!
The children were absolutely amazing all day and made friends with other schools who were sitting around us. They played football together, cheered each other on and even gave each other some athletic advice.
Well done to everyone – we are very proud of you!
Year 3 & 4 Quad Kids
On Tuesday 12th June, 16 of our Year 3/4 children (Harry T, Oliver Alfie, William, Brooklyn, Josh, Harley, Max, Willow, Melissa, Tilly, Libbie, Lillie-Ann, Halle, Olivia and Annie) attended the Middlesbrough Schools Quad Kids Event.
All children took part in every event:
300m run
Sprint
Standing long jump
Howler
We had some excellent scores and the children really enjoyed the day. They were cheering each other, supporting other schools and wanting to give everything!
Once all the scores had been collected and counted, Viewley came 21st out of 28 schools. Well done everyone!
Year 5 & 6 Cricket Competition
On Wednesday May 23rd, 8 of our Year 5 (Caleb, Harvey and Alfie) and 6 (Joe, Kayden, Orpheus, Deano and James) boys went to Marton Cricket Club to take part in a Cricket competition. It was a dull, rain-threatening day but that did not put us off!
In the morning we played 4 matches. In our league there were 5 schools; we won 2 and lost 2 and came third in the league.
After lunch, we had 2 more matches one of which we won and one which we lost.
The boys all tried really hard and there was some fantastic batting including several 4's and 6's. There was also some great fielding with some brilliant catches.
"I love playing cricket and I practise my batting whenever I can!" Orpheus, one of our boys that got a 6, explained on his return to school.
All of the boys were especially excited about a catch that Caleb made in the second game.
"The boy hit it upwards and Caleb just ran for it! He nearly crashed into the wickets but he managed to leap over them," laughed James.
Well done boys – we are really proud of you!
Year 4, 5 & 6 Cross Country Event
After Cross Country being cancelled twice due to horrible weather, it went ahead on Thursday 19th April at UCA, when the weather was beautiful! Running for Year 4 was: Kenji, Brooklyn, Layton, Acey, Harley, Tilly, Annie, Libby, Olivia, Allana and Leah. For Year 5: Harvey, Dom, Aaron, Alfie, Liam, Logan, Summer, Kada, Sophie, Grace, Evie and Katy. Finally, running in the Year 6 races were: Grace, Lola, Libbie, Amy, Lilly, Deano, Orpheus, James, Ashden, Kayden and Luke.
Each year group had one race for boys and another for the girls; this meant there were long periods of times for the other children to sit. However, the children were exceptionally behaved between races and were shouting from the sides to encourage others in their races. All of them tried their hardest when running and we had lots of finishes in the top 100 (out about 200).
A special mention to certain children who amazed us with their running ability:
Kenji (y4) placed 22nd
Summer (Y5) placed 28th
Harvey (Y5) placed 11th
Orpheus (Y6) placed 6th
We are super proud of all of our runners especially as the event was held on the first really hot day of the year. They were sensible, responsible, kind and considerate to all around them. Well done – we think you are amazing!
Year 5 & 6 Netball Competition
Thank goodness for a sunny Thursday afternoon; Spring is finally here! Some of our Year 5 and Year 6's went to Outwood Academy, on Thursday 22nd March, to play in a netball competition, which was held outside. Representing Viewley was: Grace (Y5), Lilly (Y5), Kayden (Y6), Billy (Y6), Oprheus (Y6), Ryan (Y6), Luke (Y6), Grace (Y6) and Angelina (Y6).
The children played in a lot of games and showed excellent resilience and fight to come back from being behind. Due to their effort, spirit and team work, Viewly made it to the quarter-finals!
Year 5 & 6 Basketball Competition
Instead of doing PE on a Tuesday afternoon, eight of our Year 5s attended a Basketball Competition on the 30th January. The event was held at Outwood Academy and representing Viewley was: Lexi, Kada, Grace, Lilly, Dom, Ty, Luke and Brooklyn. We could only send Year 5 children due to the Year 6s being at Robinwood.
When we arrived at the venue, we were put in League B with four other schools (Corpus Christi, Newham Bridge, Breckon Hill and St. Alphonsus). Our team played really well but were unfortunately unsuccessful in the competition. However, Luke was our super star scorer as he scored two baskets!
The children returned to school happy and laughing; they had had a great time, which is all that matters!
"Some of other teams were really tall but we managed to get past them at times," Ty commented.
"I'm just glad we got the chance to go because it was really fun," Lexi stated.
Once again, our children did us proud when they stayed and applauded the winning team, showing excellent sportsmanship. We are very proud of our basketball pros; well done!
Year 5 & 6 MFC Foundation Football Tournament 
Football Fridays should definitely become a thing! On Friday 26th January, a group of Year 5 and 6 children attended a football tournament at the MFC Foundation. Evie, Sophie C, Caleb, Aaron, Alfie (Year 5), Deano, Orpheus and Joe (Year 6) made up our squad.
They were put into a group that had four other teams and they had to play each one. Our first game, against Preston Primary, ended with Viewley winning 2-1. Unfortunately, our next game was a tough one and we lost 4-1 to Ingleby Mill. However, our keeper, Aaron, made some excellent saves during the match. As our next match approached, the children discussed tactics and it was fantastic to see how our team worked together and supported one another. Viewley won 2-1 against The Village Primary and went on to draw our last game (1-1) against Archibald Primary. All of our team showed some excellent skill and there were some wonder goals scored by Orpheus, Alfie and Deano.
The children returned to school tired but very excited about the tournament. "We had a great time even though it was cold," Aaron commented.
"It was an amazing morning and we tried really hard!" Sophie stated, "I hope we get to do it again."
Once again, our Viewley Hill children were an absolute pleasure to take out to a competition. They showed sportsmanship, generosity and courage throughout the session; they are a credit to our school. Well done team; we are very proud of what you have achieved!
Year 3 & 4 Indoor Athletics Competition
A Thursday afternoon seems like the perfect time to go out and compete! That is exactly what our Year 4s did on 24th November. They attended the Middlesbrough Primary Schools Indoor Athletics Competition, which was held at The Herlingshaw Centre, and took part in a variety of track and field events.
It was a tough competition, with fourteen schools participating, but our children did not give up. They ran as fast as they could; jumped as high as they could; threw as far as they could and worked together in relay races.
Overall, Viewley Hill came 10th and we are so proud of our athletes! They showed great tenacity, sportsmanship and ability throughout the afternoon; well done!
Year 5 & 6 Indoor Athletics Competition
On Wednesday 23rd November, we attended the Middlesbrough Primary Schools Indoor Athletics Competition. All 26 of our Year 5 children went and they all competed in their chosen event.
Field (Girls)
Track (Girls)
Field (Boys)
Track (Boys)

Chest Push: Kelsey, Miah & Megan

Obstacle Relay: Sophie F, Kelsey, Ruby & Megan

Chest Push: Ty, Brooklyn & Liam

Obstacle Relay: Alfie, Liam, Logan & Caleb

St. Long Jump: Jade, Lexi & Kada

1 + 1 Lap: Sophie C & Katy

St. Long Jump: Corey, Keidan & Caleb

1 + 1 Lap: Alfie & Aaron

St. Triple Jump: Lucy, Ruby & Lilly

2 + 2 Lap: Jade & Grace

St. Triple Jump: Alfie, Luke & Corey

2 + 2 Lap:

Dom & Caleb

Vertical Jump: Sophie F, Megan & Sophie C

6 Lap: Grace & Kada

Vertical Jump: Ty, Dom & Luke

6 Lap: Ty & Aaron

Soft Javelin: Evie, Katy & Katelin

Over/Under Relay: Jade, Lucy, Lexi & Lilly

Soft Javelin: Brooklyn, Alfie & Caleb

Over/Under Relay: Brooklyn, Luke, Corey & Keidan

Speed Bounce: Grace, Kada & Evie

4 x 1 Relay: Lucy, Lilly, Kada & Evie

Speed Bounce: Dom, Aaron & Logan

4 x 1 Relay: Ty, Dom, Liam & Logan
Our athletes were excellent contenders and we came second and third in a number of events.
However, it wasn't only the children's sporting ability put to the test … the teachers had to give the javelin a go too! Miss Shadforth's attempt was nowhere near as good as the children's but there was still cheering from the Viewley area of the sports hall.
It was an absolute joy to take the Year 5 children to this event. They showed compassion towards one another; they showed excellent sportsmanship towards other teams; their behaviour was outstanding. We are so proud of our SPORTING SUPERSTARS!
One of Our Own!
A massive congratulations to our very own Orpheus Avlonitis (Year 6)! He has been selected to represent the county and is now a member of the Middlesbrough Primary Schools District Football Team. This team is made up of Year 6 boys from schools across Middlesbrough and we are so proud that, after taking part in trials, Orpheus has been picked!
Year 6 Golf Tournament 
A Wednesday seems like a great day to try something new! That is exactly what ten of our Year 6 children (Ashden Blackman, Callum Heard, Owen Bennett, Ryan Short, Billy Robinson, Caitlyn Roth, Grace Stevenson, Gracie Macpherson, Lily Burns and Angelina Moyo) did on Wednesday 18th October. Our children were invited to Unity City Academy to try their hand at golf, which is something they haven't done before. The Year 6s took this in their stride and were excited to have a go – they even practised their swings on the playground.
Overall, Viewley came 12th in the tournament which we think is pretty impressive considering it was our first time, and the children had a great afternoon!
Year 5 & Year 6 Girls Tag Rugby Competition 
On Friday 13th October, nine of our girls (Evie Horncastle, Kada Wilson, Grace Desics, Megan Poole, Sophie Flynn, Grace Stevenson, Angelina Moyo, Lola Morrison and Caitlyn Roth) went out to a Tag Rugby competition at the Southlands Centre. It was a very windy day and the matches were held on the outside pitches. However, the weather didn't put our girls off as they played two matches against Sunnyside, which we won, and Breckon Hill, which we lost.
Overall, our girls came third in Plate 1 and we could not be prouder!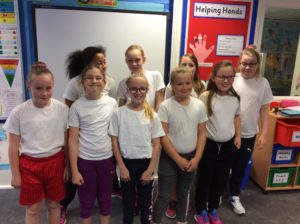 Year 5 & Year 6 Tag Rugby Competition
On Tuesday 10th October, two of our Year 5 children (Kada Wilson and Evie Horncastle) and seven of our Year 6 children (Angelina Moyo, Grace Stevenson, Ashden Blackman, Luke Sullivan, Kayden Donnelly, Billy Robinson and Orpheus Avlonitis) attended a Tag Rugby Competition. The event was held on the outdoor pitches at Middlesbrough College and over 30 schools attended. It was an all day event and the children played a lot matches. Unfortunately, we did not make it to the final but our children stayed to watch, and applaud, the overall winners.
Once again, the Viewley children were excellent representatives of our school. They were kind, honest and played by the rules in all of their matches. Kada said, "it was a great day and we had a lot of fun," which was evident from the smiles on their faces when they returned to school. Well done team; we are super proud of you!
Middlesborough Small Schools Football Tournament
On Tuesday 19th September, four boys from Year 5 (Alfie Farrell, Dominic Reed, Aaron Jowers and Caleb Bradley) and six boys from Year 6 (Deano Al-Bakeeri, Orpheus Avlonitis, Josef Suddick, Kayden Donnelly, Harrison Jenney and James Smith) attended the Middlesbrough Small Schools Football Tournament, which was held at the Southlands Centre. They played three exciting games against St. Alphonsus (won 4-o), Caldicotes (1-1) and Marton Manor (0-0) – our goal scorers were: Orpheus (2), James (1) and Josef (2). The last game of the afternoon, against Marton Manor, was nearly won by Deano who, in last minute, headed the ball just past the post. Viewley Hill came second in the competition, with Caldicotes winning by a narrow margin, and the boys were awarded with a silver medal.
Our boys performed excellently on the pitch but also on the side lines. They showed true sportsmanship, as they shook hands with all the other teams, and kindness, when they allowed another school to borrow a pair of goalkeeper gloves. The boys represented our school in an outstanding way and we could not be prouder of them!
The Primary Sports Awards
On Thursday 6th July 2017, we were invited to The Primary Sports Awards for Middlesbrough. It was held at Teesside University and twenty-eight primary schools from across Middlesbrough were in attendance. Each school was asked to nominate a Year 6 boy and Year 6 girl as Sports Personality of the Year. At Viewley Hill we decided it had to be Connah Dalton and Ellie Sobey. Mrs Willis and Miss Shadforth had the honour of taking our two winners to the event and enjoyed seeing our stars being celebrated.
Connah: He is an excellent sportsman and will always take part in an activity. He enjoys team games and working with other children to be successful. Connah has represented the school on many occasions and is an absolute role model to younger children. His conduct and ability is second to none.
Ellie: She is fantastic when it comes to team games, dance, gymnastics, running and anything else! Ellie is an amazing sportswoman with a natural ability, but is always pushing herself to do better. She has represented the school in numerous events and always shows outstanding respect to other participants.
Year 3/4 Discovery Alliance Athletics
On Tuesday 20th June 2017, all of our Year 3 and Year 4 children attended the Discovery Alliance Athletics Event. This is the second year this event has taken place and all the schools in our alliance attended. The children took part in a range of events, such as: 100m sprint, 800m long run, 4×4 relay, howler throw and shot. There was also a cycling challenge – to cycle the distance from John O'Groats to Lands End in one day. All the schools took part in this activity and were successful in clocking up the miles – 874 in total!  Once back at school, our PE Co-ordinator received an email with the day's results.  Easterside were in fourth place; Sunnyside in third; Rosewood in second and … Viewley Hill had come first and were the new champions! We even get a shiny silver trophy with our name engraved on it. Fantastic!
Year 4 Cricket Competition – May 2017
On Thursday 25th May 2017, ten of our Year 4 children attended a cricket competition, which was held at Marton Cricket Club. They played five tough matches against a variety of schools and we managed to progress through to the semi-finals.  The teams were put into four groups and the top two from each when through to the knock-out stages. Out of the three games played, our children won two and came second in the group! In the first knockout round, we beat Corpus Christi and this allowed us to progress through to the quarter-finals, where we met Berwick Hills. Our children were victorious in this match too, which meant we had made it to the semi-finals. In the semi-finals we played Rose Wood Academy and, unfortunately, we lost this game. However, our children had played some amazing cricket and were unlucky not to reach the final.
Year 6 Girls Basketball Tournament – February 2017
On Tuesday 7th February 2017, some of our Year 6 girls attended a basketball tournament, which was held at Unity City Academy. They played six toughgames against Linthorpe, Pallister Park, Marton Manor, St Edwards and Ayresome, managing to win five of them and drawing one. The teams were put into leagues, with our girls being drawn in League One, and they had to play for the title. Our fantastic five won their league, bringing a trophy and medals back to school with them. Well done girls!Our team was mentioned in the awards ceremony for their excellent team work
and Ellie was given a special mention due to her 8 baskets in the last game. 'I really enjoyed myself and just wanted to win for school,' Ellie commented.
Year 3 & 4 Skipping Festival – December 2016
On Thursday 1st of December, some of our Year 3 and Year 4 children attendedMiddlesbrough's first ever Skipping Festival at the Sports Village. There was lots of excellent
skipping and the children really showed off their skills. Unfortunately, we didn't win the overall event but we did receive some awards for our super skipping.
Kelsey Brown (Y4) won GOLD in the Side Swing girls.
Brooklyn Watson (Y3) won BRONZE in the Cross-over boys.
Grace Desics (Y4) won BRONZE in the Cross-over girls.
Kada Wilson (Y4) won BRONZE in the Pretzel girls.
A team of 6 children – Jade Pugh (Y4), Aaron-James Jowers (Y4), Lily-May Jackson (Y4), Megan Poole (Y4), Libby Fryer (Y3) and Alfie Paice (Y3) – won SILVER in the Run-Jump-Out team skip.
The children showed themselves to be excellent sportsmen as they cheered each other andapplauded other teams. As usual, the behaviour of our children was outstanding! Well done Super Skippers, we are so proud!
Year 4 & 5 Indoor Athletics – November 2016
On Thursday 24th of November, our Year 4 children went to Eston Leisure Centre to take part in the Middlesbrough Schools' Indoor Athletics. They were up against another fourteen schools! There was a variety of track and field events for boys and girls. Our children took part in every event and were excellent cheerleaders from the side lines too! The children conducted themselves really well and people commented on their good behaviour. As the afternoon drew to a close, the announcer asked the teachers to take a place on the floor … it was their turn to do some athletics! Thankfully, it wasn't a 3 by 3 relay race or anything like that, it was a javelin throw. Mrs Wahid stepped up to the challenge and threw her javelin as far as she could, reaching about 8 metres. Well done Mrs Wahid!
On Friday 25th of November, it was time for the Year 5 children to go to the Middlesbrough Indoor Athletics. This time we were up against thirteen other schools. Our boys and girls tried their hardest in all events for track and field. They showed excellent sportsmanship as they applauded each other and other teams throughout events. The resilience they showed was fantastic as they
never gave up and kept on going right to the end. Once again the behaviour of the children was of an extremely high standard. Miss Shadforth thought she had got out of doing some athletics but then the dreaded words, "Can teachers make their way to the floor?" sounded around the Sports Hall. Miss Shadforth managed to throw her javelin 10 metres. Although this wasn't enough to beat
some of the other schools' teachers, we definitely won for the loudest cheering!  Over the two afternoons, both Year 4 and Year 5 showed how excellent they are. Their behaviour was impeccable, their sportsmanship was fantastic and their effort was outstanding. They did themselves, their teachers and Viewley Hill proud. Well done guys!
Year 5 & 6 Tag Rugby – October 2016
On Thursday October 13th our Tag Rugby team travelled to Middlesbrough College with 32 other teams to take part in the Middlesbrough Schools' Tag Rugby championships.  We started off well with our first match against Green Lane ending in a draw. We lost the next match against Pallister Park (the eventual championship winners.) Our first win was against Abingdon. The final match of the morning was against Berwick Hills which was played in torrential rain. It was a really close game which we eventually lost by 1 point. In the afternoon, we were unbeaten in the Plate league and got through to the semi-final. This was a really close game which we won in extra time  In the final it was again end to end stuff but we were eventually beaten by 1 point by Ayresome. The team worked well together and particularly enjoyed meeting players from other teams.
Year 5 & 6 Small Schools Football Tournament – September 2016
On Tuesday 27th September, some of our Year 5 and 6 boys attended the Small Schools Football Tournament, which was held at the Southlands Centre. The tournament was heldoutside and, although it was windy, our boys showed excellent resilience throughout the six games that they played. Viewley Hill lost 2 nil to St Gerards, drew 0-0 with Marton Manor
and lost 1 nil against Caldicotes, St Pius, St Thomas More and St Alphonsus. St Gerards were the overall winners.  However, the boys returned triumphant in their effort and proud of the way they had played. "It was a great effort afternoon, I really enjoyed myself," commented Orpheus (Y5).  "I was really proud to captain the team in two of the games. I thought we played really welland were unlucky sometimes," stated Deano Al-Bakeeri (Y5).  The Viewley footballers showed outstanding sportsmanship throughout the afternoon and were congratulating other teams in their success. We couldn't be prouder of you boys.